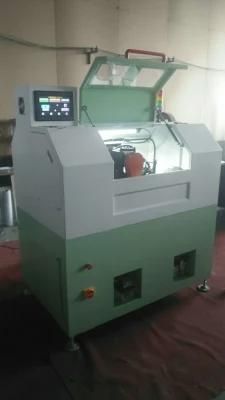 Hand Use Dental Niti K-Files (dental grinding machine)
Shanghai Jingzhan Precision Machinery Co., Ltd.
Type:Dental Drill & Accessories
Material:Metal
Applicable Departments:Oral Department of Internal Medicine
Nature:Specialized Instrument Equipment
Certification:UL
Kind:Knife
Model NO.:cnc-hkdru035
Transport Package:Wooden Case
Specification:1200
Trademark:JZ
Origin:Shanghai
HS Code:4101201110
Production Capacity:1000
Overview
Detailed Photos
Company Profile
Dear friends, our company mainly produces dental products processing equipment, (3-axis automatic root canal file production machine, 4-axis automatic root canal file production machine, 6-axis high-speed root canal file production machine, heat activated production process, heat activated special furnace, dental root canal nail production machine, dental CNC drill grinder, medical external knife operation production machine, ophthalmic scalpel production machine, Oral enlargement needle production machine, oral preparation drill production machine, oral g drill P drill production machine, etc.
This special grinding machine for root canal files is a fully automatic production equipment with simple operation and high efficiency. One person can operate 4-6 machines. This machine is characterized by arbitrarily adjusting the taper, spiral angle and sharpness of root canal files according to your products. The operating system independently developed by the company has no requirements for the operator, During the epidemic period, customers buy the machine and give the operation video as a gift, and the technicians provide the connection guidance. We provide all the training from materials to finished products,The customized machine business provided by our company can customize full-automatic or semi-automatic production machines for you according to the products you provide, which greatly improves the production efficiency. Our machines mainly focus on grinding, all kinds of medical tools, dental tools and machining tools, and welcome your consultation!